Students from the International Disaster Reconnaissance Studies course walk through ruined buildings in Old Beichuan, China. The city has been left as a memorial to those killed when it was rocked by the 2008 Wenchuan earthquake in central China. The site was one of the places students visited in China and Japan over Spring Break as they considered the impact of disasters and how communities rebuilt. (Photo Courtesy: Lynnae Luettich and Katie Popp)
Spring Break for many college students means a break from academic pursuits, or at least a less-hectic schedule.
For several dozen School of Civil and Environmental Engineering students, though, the break was a packed week of mind- and perspective-stretching experiences in South America, Europe and Asia. The students worked and explored alongside professors and graduate students as part of three classes affiliated with Tech's global engineering leadership minor.
David Frost took his class to China and Japan to investigate the aftermath of devastating disasters and consider how communities responded. Joe Brown's students went to Bolivia to study water quality and collaborate with local college students. Kari Watkins and her students rode bicycles all across the Netherlands to understand a country that has taken a vastly different approach to transportation than the United States.
We asked students in each course to share their reflections on an intense week abroad. Here's what they had to say.
---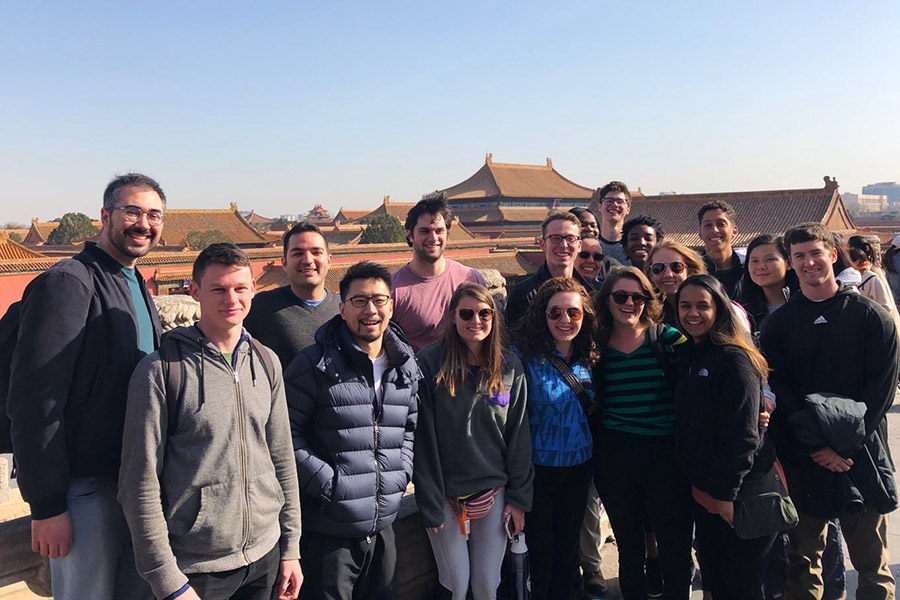 The 2019 International Disaster Reconnaissance class at the Forbidden City in Beijing, China. Students in the course spent Spring Break traveling across that country and Japan to learn about disaster recovery and reconstruction, visiting sites of earthquakes and tsunamis. They also visited the Great Wall of China, an ancient irrigation system in Dujiangyan City, and a Giant Panda Sanctuary in China and the Hiroshima Atomic Bomb Peace Memorial and the Fukishima Nuclear Power Plant cleanup efforts in Japan. (Photo Courtesy: Lynnae Luettich and Katie Popp)
Katie Popp, third-year undergrad, civil engineering, minor in global engineering leadership
Lynnae Luettich, Ph.D. student, civil engineering
International Disaster Reconnaissance Studies
China and Japan
We learned about the reconstruction efforts of several communities after two major disasters: the 2008 Wenchuan earthquake in central China and the 2011 Tohoku earthquake and resulting tsunami that washed ashore on the northeastern coast of Japan. Witnessing the effects of the disasters first-hand was an eye-opening experience. Learning about individual communities' approach to rebuilding challenged us to not only consider the types of engineered structures they built post-disaster, but also the cultural and political factors that likely played a role. For example, the rebuilding of Yingxui town in China was very important economically to the Sichuan Province, because it was the midway point between a major farming community and the large city of Chengdu. On the other hand, Old Beichuan, a city where many students attended boarding schools, remains a town of ruins to this day due to the heartache it brought families of children who did not survive the 2008 earthquake. Instead, they built New Beichuan in a different location, creating a new city with no haunting memories.
Both China and Japan are extraordinary, not only in the subject of infrastructure reconstruction, but also in history, culture, food, natural beauty and people. China is a country that is very rich in history, so their culture revolves very much around traditions and ancestral accomplishments. Many Chinese we encountered were fascinated by our group, because they had never seen an ethnicity other than their own. They were kind, snapping photos and treating us almost as celebrities. They also were fond of touching our hair, often without permission, which was uncomfortable at times. In Japan, the culture focused on respect and rules. People were quiet, friendly, and they made time for each part of their day. Here we tend to multitask — eating and doing homework, or talking on the phone and walking to class. Those are very foreign concepts in Japan. For a country that has four times the population density of the U.S., their ability to organize and focus on the task at hand is spectacular.
---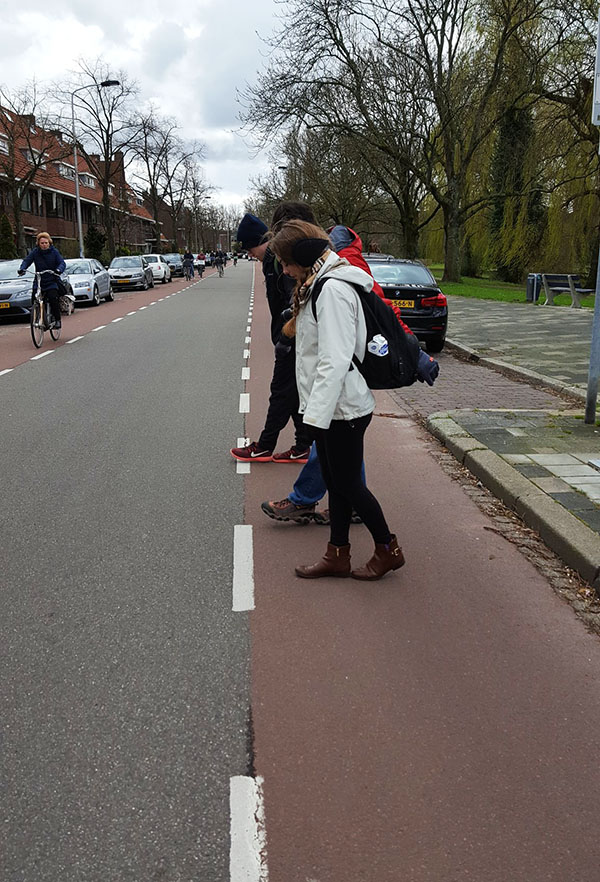 Students measure bike lanes in Delft, Netherlands, during their trip with Kari Watkins' Sustainable Transportation Abroad course. (Photo: Kari Watkins)
Laura Kelly, third-year undergrad, civil engineering
Sustainable Transportation Abroad
The Netherlands
I was aware that the Dutch maintain a considerable population of everyday cyclists, especially compared to the United States. They have more bicycles than they do people! After traveling to the Netherlands, I understand how they achieved this strong cycling culture. Cyclists are prioritized through a range of infrastructure design features, from separate bike paths to intersection protections. After visiting cities varying in size, atmosphere, and culture — Delft, Utrecht and Amsterdam — I realized that the inclination for cycling goes beyond the infrastructure alone.
The overarching key to increasing bike use for daily transportation is the straightforward connection between cycling infrastructure and public mass transit. Seamless transitions from bicycle to train or tram allows the Dutch system to work so well and create a cycling culture that resulted in the highest rates of cycling in the world. Now that I'm home, I am visualizing realistic improvements that can be made in Atlanta: creating access to more bike parking at MARTA stations, incentivizing biking on campus, and adding traffic calming features to slow cars. Together, they would protect cyclists and encourage more people to ride. I now see cycling as a relaxing, fun way to save time navigating the busy streets of Atlanta, not just as a form of exercise.
---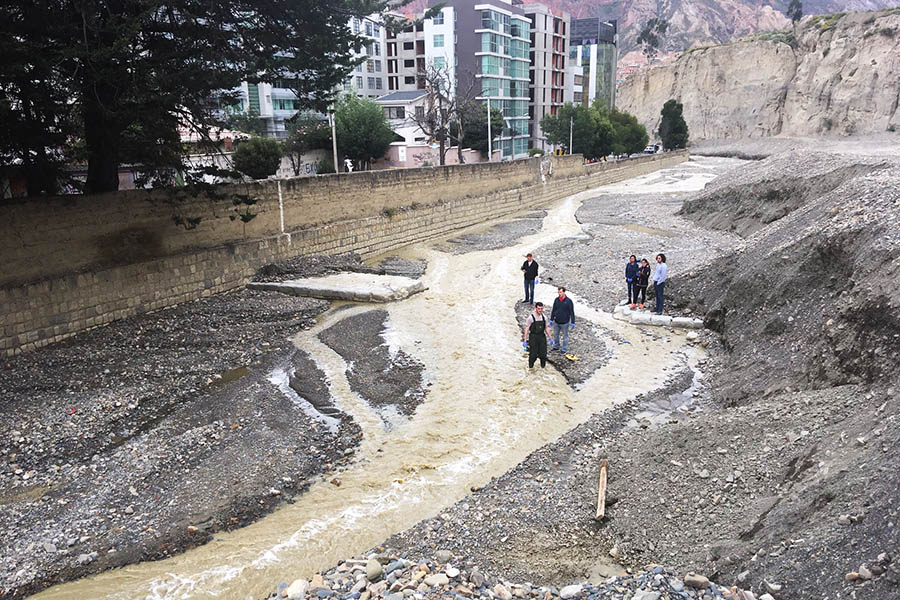 Students in the Environmental Technology in the Developing World course collect water samples from the polluted Choqueyapu River in La Paz during their Spring Break trip to Bolivia. They were researching bioaerosols and using spatial mapping to quantify urban sanitation problems in the city. (Photo: Joe Brown)
Sarah Lowry, third-year undergrad, environmental engineering
Environmental Technology in the Developing World
La Paz, Bolivia
We had worked all semester to prepare for the trip: writing up detailed schedules, practicing field sampling, and learning about the culture of Bolivia in class. Our goal was to research bioaerosols and use spatial mapping to quantify urban sanitation problems in La Paz. But nothing could prepare the class for all of the challenges and unexpected learning opportunities that this trip gave us.
Before we departed, we reviewed the basic travel information for our trip: be careful what you eat, be aware of the high altitude, drink only bottled water. After a smooth plane ride to La Paz, the taxi driver dropped us off at our hotel. All we had to do was climb up a hill and a flight of stairs to reach the hotel. We quickly realized that being at an altitude of around 11,000 feet makes it pretty challenging to go uphill, and the hotel's hill and stairs combination became infamous among our group as a challenge of physical exertion. Then, on our fourth day of the trip, the salmonella hit. We watched helplessly as fellow classmates succumbed to the illness and our numbers rapidly dwindled.
Despite these challenges, our class continued to conduct research and learn about the environmental problems in La Paz. We recovered from our illnesses. We climbed up staircases, hills and mountains to obtain air and water samples. And perhaps most importantly, we connected with Bolivian students from the Universidad Catolica Boliviana who were studying the same environmental engineering issues that we were. We exchanged cultural songs and performances and talked about our common academic interests while teaming up on research in the field.
This class showed me the global application of environmental engineering and allowed me to connect with students who had completely different backgrounds and spoke a different language than me. Through my Bolivia experience, I saw that science and engineering transcends cultural and geographical boundaries.
Related