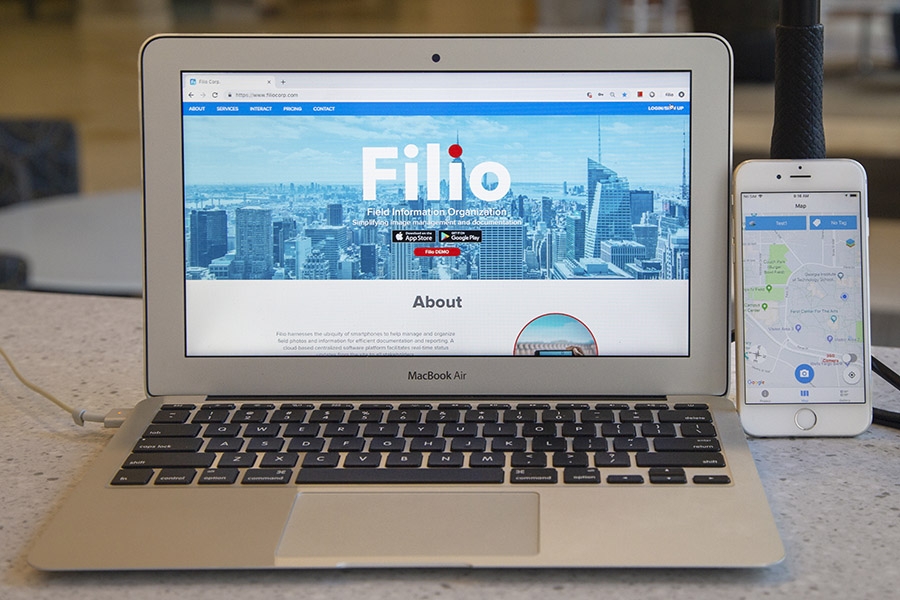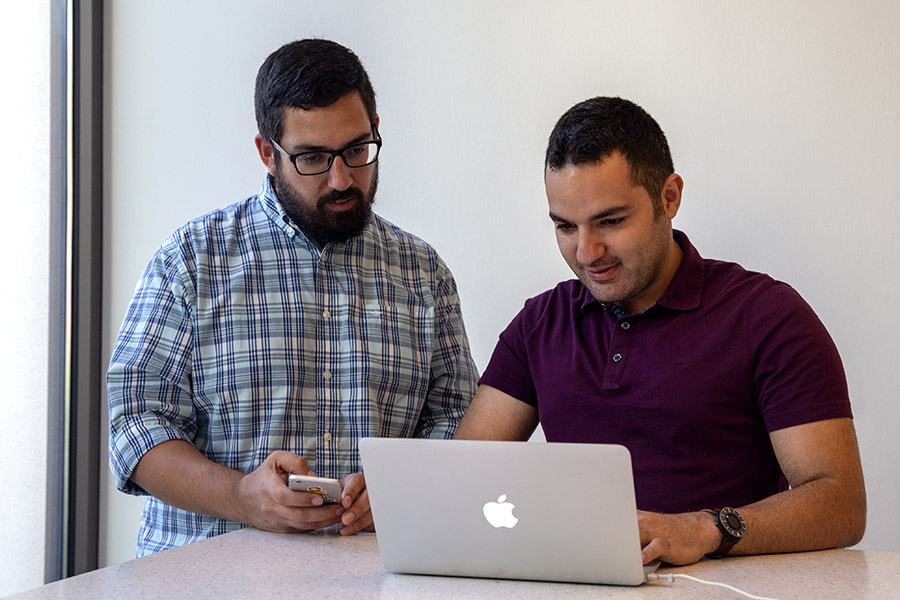 Fikret Atalay, left, and Mahdi Roozbahani work on their image management app Filio, which went live June 24. The web and mobile app allows contractors, insurance companies and other businesses to take photos at a worksite and instantly caption and catalog those images. The app captures GPS coordinates and the direction the camera was pointing and uses a voice-to-text function to allow users to describe the photo and why they took it. Atalay and Roozbahani developed the app while they were Ph.D. students in the School of Civil and Environmental Engineering, including participating in Georgia Tech's CREATE-X program to help students turn their ideas into startup ventures. The co-founders both finished their doctoral work in the spring and are working to turn Filio into their full-time occupation. (Photo: Amelia Neumeister)
It's a problem many of us can relate to: you take a bunch of photos at an event or on a vacation and then never get around to organizing them.
They just sit in your phone's gallery, or maybe in a folder on your computer. But all the details are often lost to history.
It's no different for construction companies, contractors or insurance companies. Employees frequently document a work site but might miss important details or, when they download the photos days later, forget the exact location of many of the images.
A startup created by two School of Civil and Environmental Engineering graduate students aims to fix all that and make image management a snap (pun intended).
Mahdi Roozbahani and Fikret Atalay went live June 24 with a mobile and web app called Filio (pronounced FILL-ee-oh) that automatically tags photos with GPS coordinates and the direction the camera was pointing and allows the photographer to quickly caption the image with voice-to-text capabilities. The image is uploaded immediately to a central cloud platform where it's searchable on a map or by keyword. Photos can be integrated with Google Earth and mapping software ArcGIS.
"Images are still not given the attention that they deserve, and there is room for disruption in many markets that currently undervalue image management," said Roozbahani, Filio's founder. "With the advances in computer vision and machine learning, images will become even more valuable in the future, and it is our goal to be at the forefront of this emerging sector."
Roozbahani said capturing and organizing construction photos, for example, has been a cumbersome, inefficient process. Often, key information is lost between when the photos were taken and when they're put to use.
"For example, if good field notes were not taken, one may not recall where exactly the picture was taken, or what the picture is trying to convey," he said. "In addition, creating reports or presentations for clients involves extra steps, like copying and pasting photos into a template and typing all of the photo's information all over again."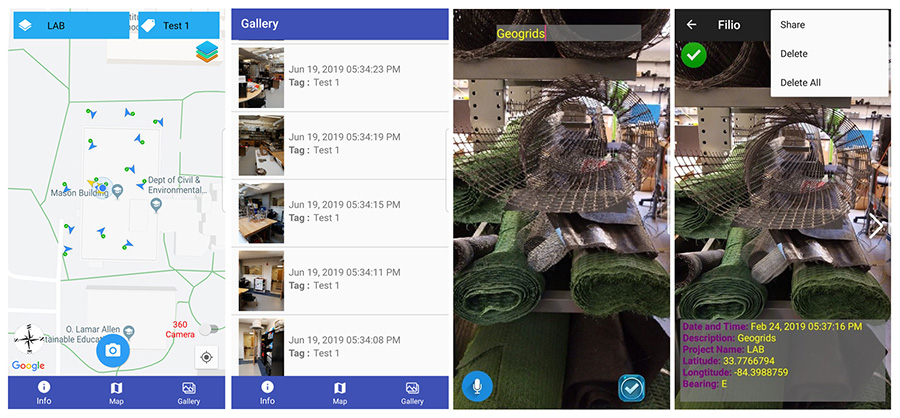 A series of screenshots show various stages of capturing and cataloging photos in the Filio mobile app. From left to right, a map shows all photos associated with a project, including location and direction of the photos. Users can also view photos as a Gallery. In the third screen, a user takes a photo and can immediately create a description using voice-to-text functionality. Then the photo is saved with details of when and where the photo was taken.
Filio allows users to skip all that, inputting information once and then generating reports with a few clicks. On-site employees and project managers in the office also can collaborate in real-time, discussing issues or addressing questions right away.
"In some cases, there may not be an opportunity to go back and take more pictures," said Atalay, the startup's co-founder. "Filio greatly reduces the risk of lost information, increases productivity, and allows the users to treat their images like the valuable asset that they are."
Filio is one of the latest startups to emerge from Georgia Tech's CREATE-X entrepreneurship incubator. The app — available for iPhone and Android — has been in beta testing with about a half-dozen companies and went live June 24. Some of those early testers are now on board as paying customers.
So how do a couple of geotechnical engineering Ph.D. students end up creating an app to manage images for contractors, banks, insurers and developers?
"It was a case of being at the right place and at the right time with a combination of the right talent," Atalay said. "We were both Ph.D. students under the same adviser, Dr. David Frost, and with different, yet complementary, backgrounds."
Roozbahani has a background in mobile and web app development, and Atalay has worked as an engineering consultant and in geotechnical engineering construction.
"This allows us to come up with ideas and implement them rapidly," Roozbahani said.
Both have now finished their doctoral degrees — Roozbahani in computational science and engineering and Atalay in civil engineering — and they continue to teach and do research at Tech. But they said they're actively courting investors (Tech alumnus Chris Klaus is already on board) and hope to make Filio their primary focus in a year or two.
"We hope to rapidly expand and grow our market presence," Roozbahani said. "Our vision for the company is to become a leader in photo asset management."
Related