Researchers traveled to Columbia area where numerous dams gave way as historic rainfall pelted the state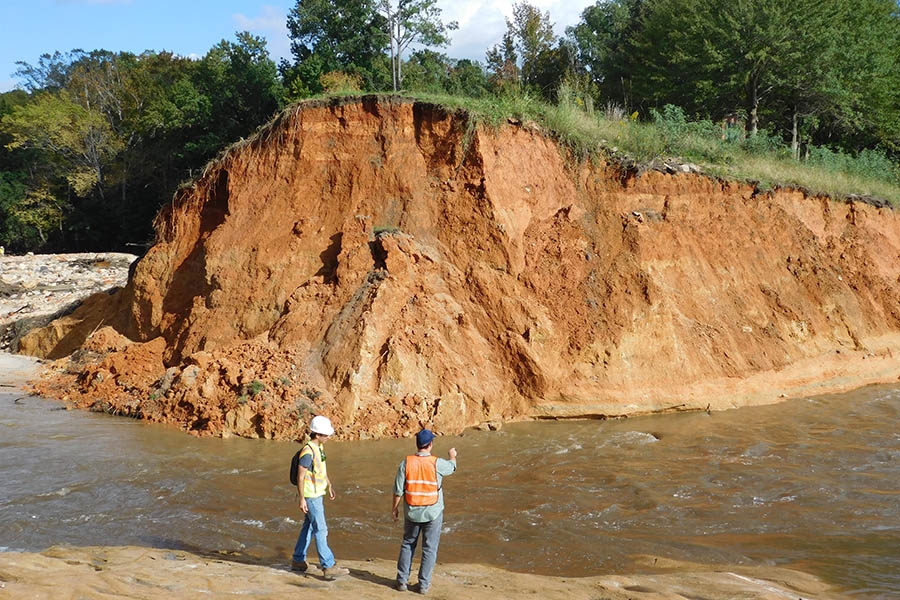 Graduate students Alejandro Martinez, left, and Fikret Atalay stand where an earthen dam in Lexington, South Carolina, gave way during massive flooding as rain related Hurricane Joaquin drenched the state. The dam emptied the 25-acre Old Mill Pond. (Photo: Hermann Fritz)
Left: Atalay and Martinez use a hand auger to collect soil samples where the Cary's Lake dam failed. Middle: The breach in the Columbia Canal, which serves as the main water supply for Columbia, South Carolina. Right: A truck rests against a tree downstream from the ruptured Cary's Lake dam. "The truck was washed off a bridge on Gills Creek, and fortunately the pickup got stuck in pine trees downstream," said Hermann Fritz, who led a research team to the area to survey damage. "The driver was trapped for four hours until a rescue team could extract him, putting not only himself but also the lives of the rescue teams in danger." (Photos: Hermann Fritz)
 
A team of scientists led by the School of Civil and Environmental Engineering's Hermann Fritz has just returned from a four-day reconnaissance mission in South Carolina assessing damage after record-breaking rainfall flooded large swaths of the state.
As Hurricane Joaquin passed offshore and shoved unprecedented amounts of rain into the state, rivers surged and dams failed, releasing torrents of water downstream. Fritz's team is trying to find out just how high the water rose and why some of those dams gave way.
"From a sustainable and resilient infrastructure point of view, the cause of the numerous dam breaches needs to be investigated. The fieldwork allowed us to measure high water marks on the river banks both upstream and downstream of the dams to determine the hydraulic loading on the mostly earthen dams and analyze their performance," Fritz said.
"Unfortunately, several dams failed prior to being overtopped pointing at geotechnical engineering design or maintenance failures."
Fritz led several Georgia Tech graduate students, colleagues from Clemson University, and partners from Geosyntec Consultants and the Federal Energy Regulatory Commission on the four-day survey this week, taking soil samples and assessing damage. The trip was organized by the Geotechnical Extreme Events Reconnaissance (GEER) Association with support from the National Science Foundation.
The samples collected by the graduate students head to labs at Georgia Tech and Clemson for analysis so the scientists can better understand the soil's characteristics.
Fritz said some dams performed flawlessly, which will provide valuable lessons-learned. But the ones that failed resembled another notorious flooding event.
"The South Carolina flooding was characterized by local dam failures of mostly earthen dams, which was reminiscent to the aging infrastructure and poorly maintained levees in New Orleans during Hurricane Katrina 10 years ago," said Fritz, who has done extensive work along the Gulf Coast where Katrina came ashore. "In both cases, earthen dams or levees were aging and poorly designed with soils of limited strength, resulting in breaches prior to reaching their design heights or being overtopped [by water]. Both events provide textbook examples of dam failures prior to floodwaters reaching the crest height and also due to overtopping."
"It was amazing how the dam failures were concentrated in the greater Columbia area in contrast to the reserves downstream of Columbia, where freely meandering rivers flooded wide swaths of marshland, but provided few engineering failures," he said.